Pictures and video: Crossroads
What is Studiz?
The overall purpose of Studiz is to make student life both easier and cheaper.
This happens by collecting and simplifying the access to student discounts via our platforms: The website, mobile website and the app. The app also gives the student access to a digital student card, whereas everything is gathered on the smartphone.
We support and, in cooperation with various partner companies, create student relevant events such as exam training, stress handling, student life planning, job application training etc.
How do we at Studiz work?
We at Studiz believe that the focus should 100 % be on the end customer, which in our case, is our fellow students. Only by having a 100% focus on the students, their needs and wishes, is it possible for us to create value that enriches both the student as well as the companies that provides student discounts. To be able to keep this focus in a "young" world, where trends are passing continuously, we believe it is imperative to be a part of the young world ourselves. By implementing this belief in our core values means that the team behind Studiz is students ourselves. Studiz is a company by students – for students - we also take pride in offering student jobs and practical placements for students all over Denmark. For more information click on job section.
What is the price of using Studiz?
Nothing, zero, nul!

As our focus is on the students, we are well aware that a student budget is fairly limited, and it can be difficult to modify a limited amount of money. That is why we think it is not reasonable for the students to pay to get access to student discounts. Additionally, this is why we offer free charge for students to use our student discount services, and it will continue to be for students.
How can Studiz be profitable then?
Studiz is partner financed and the business model behind is rather simple: by offering student discounts and other student relevant offers, will companies have an opportunity to attract and create an early relation to the consumers of the future. Various studies have shown that if a company or product can make a good first impression on the consumers, are they more likely to return as consumers. By using Studiz's services companies can create visibility towards the students, which is also why a lot of companies do offer student discounts.
Because we are students ourselves and have daily contact with students, this gives us opportunity to inform the stores and companies whose products the students find interesting, and how the students prefer their customer service. In this way, the stores and companies have the possibility to customise their approach for capturing more students as consumers - this is done by taking the needs and wishes of us in consideration.
The thought behind Studiz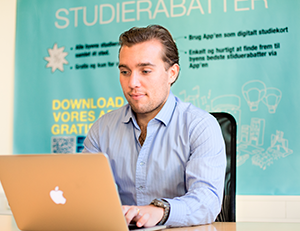 The idea for Studiz originally came from a bachelor project on Aarhus university, where the base thought was to produce a value creating cycle, that all parties could benefit from and also make life easier for the students.
It took a couple of years before the concept was brought into life, this happened in August 2013, where the entrepreneur Lasse Tindbæk used the summer of 2013 to finalize the business concept as well as contacting both students and local companies in Aarhus.
Subsequently, the first version of Studiz' website was designed, which, however, proved to be a more complicated process than expected because this version contained a number of errors. As a student and newly started entrepreneur the reality now suddenly was to feel. Subsequently the time was used to seek feedback so the system could be built in relation to this and improve the website. About half a year later, the second version of the website was finished. At the beginning of 2015, Studiz rounded about 30,000 user registrations, which told us that our fellow students had interest in the service. Afterwards the focus was put on the digital student card in relation to make the student life more fun, easier and cheaper. The digital student card could also be an easier and cheaper solution for the schools. In relation to the development of the digital student card Studiz entered partnership with 10 schools during the summer of 2015. In association with these partnerships Studiz developed a number of functions e.g. A ticket and payment system for parties, study trips and friday bars, which besides being fully integrated with the student-ID also offers the country's cheapest fees (the money should be spend on the students – not administration). In 2019 Studiz launched the current app (version 3) and in June 2020 more the 60 institutions had chosen Studiz as official partner and supplier of student-ID. 2020 was also the year where Studiz registered verified student number 200.000 in the system.
"My friends and I have often talked about how hard it is to find shops and businesses that offer student discount, because the signage is almost non existing. And if one were to find a shop that offers student discount the next problem occurs – forgotten student card.
It was based on these 2 problems that the idea of the smartphone App come to be, this would create a platform for which the students could both find and get student discounts from" states Lasse Tindbæk.
Enjoy your student discounts!
Student friendly greetings
Team Studiz